Equipment Composition and Function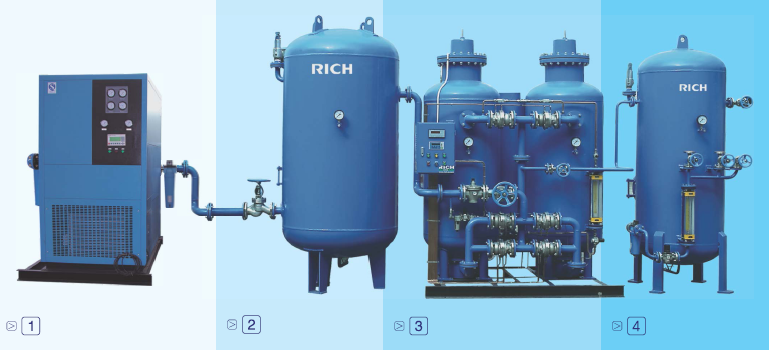 1.Compressed air treatment assembly
The compressed air from air compressor firstly enters the compressed air cleaning assembly. At first, the pipeline filter removes most of the oil, water and dust from the compressed air, and then the refrigerated drier further removes the water. The precision filter removes the oil and dust and following ultra-precision filter can deeply clean it. According to the working condition of system, RICH Company specially designs the whole set of compressed air oil removers, which can be used to avoid oil leakage and give full protection for the zeolite molecular sieve. The designed precise compressed air treatment assembly can ensure the life time of zeolite molecular sieve. The processed pure air can be used as the air for instruments.
2. Air tank assembly
The air tank is used to reduce the airflow pulsation so as to reduce pressure fluctuation of the system, make the compressed air stably enter the PSA oxygen and nitrogen separation system. At the same time, when the adsorption tower switches to the working pattern, it also will supply the PSA oxygen and nitrogen separation system with large amount of needed compressed air for rapid pressurization in a short time so as to raise the pressure in the adsorption tower to the working pressure and ensure the equipment to run stably and reliably.
3.Oxygen and nitrogen separation assembly
There are two adsorption towers A and B equipped with special zeolite molecular sieve. When the pure air enters the inlet of tower A and flows to the outlet through the zeolite molecular sieve, H2, CO2 and H2O will be adsorbed. The produced oxygen flows out from the outlet of the adsorption tower. Meanwhile, the zeolite molecular sieve in adsorption tower A will reach saturation. Tower A will automatically stop adsorbing and the compressed air will flow into tower B to adsorb nitrogen and produce oxygen and the zeolite molecular sieve in tower A will regenerate. The sieve can realize regeneration by reducing pressure of the adsorption tower to normal pressure and removing the adsorbed N2, CO2 and H2O. The two towers can adsorb and regenerate alternately so as to finish oxygen and nitrogen separation and continuously output oxygen. The above process is controlled by PLC. If purity of oxygen at the outlet is less than the set value, PLC program will work and the automatic discharge valve will open. The unqualified oxygen will be automatically emptied so that it doesn't flow to the site of oxygen utilization. You can use the silencer to reduce the noise to 85dBA when discharge the unqualified oxygen.
4.Oxygen buffer system
The oxygen buffer tank is used to equalize the pressure and purity of separated oxygen from the oxygen and nitrogen separation system so as to ensure continuous and stable oxygen supply.