RICH's VPSA oxygen generating technology is the result of combining the advantages of similar equipment at home and abroad, further research and development. To enable the equipment to achieve the best performance, RICH Company invested a lot of man power and resources to carry out hard practice, constantly sum up experience %lessons, and widely absorb advanced experience at home and abroad. The technology has reached advanced international level and obtained the support of the State Technology Innovation Fund. Relying on the high level of technology, RICH Company has designed and manufactured many sets of large-size VPSA oxygen generators for users in all industries. With advanced process, high quality and reliable corollary equipment, superior performance index, smooth operation, and overall low cost high performance, RICH is creating the most benefits for users in the world.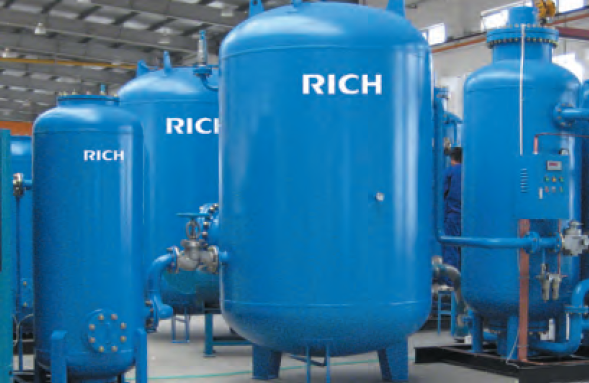 VPSA oxygen generator
Technology characteristics and advantages of oxygen generators
Adopts high efficient oxygen generating adsorbent of international advanced level: Total G-5000.
Adopt air distributor designed &development by ourselves. which solves the problem of air distribution in large-diameter shallow adsorption bed and provides reliable guarantee for large-scale equipment.
Advanced process, high degree of automation, flexible operation, and high reliability in long-term operation.
Capable of using TOTAL high efficient adsorbent to make technological reconstruction to users' original
Oxygen generators and greatly improve the performance index.