Get A Quote Now sales@rich-china.com

RICH is a nitrogen generation plant manufacturer with a history of more than 40 years. Industrial nitrogen generators are widely used in various industries. Our equipment includes chemical nitrogen generators, petroleum industry nitrogen generators, laser cutting nitrogen generators, etc.With a leading nitrogen production process in China,RICH is a high-quality PSA nitrogen generator supplier and nitrogen gas plant manufacturers. We have different structures such as integrated nitrogen generator、skid-mounted nitrogen generators and mobile nitrogen generators, mobile, vehicle-mounted, etc.. Rich can provide customers with customized industrial nitrogen generator services.
Excellent Energy-saving Features Reduce Air Usage Cost
Advanced process flow directly reduces compressed air consumption
The energy-saving CMS nitrogen gas generator provided by RICH adopts unequal pressure equalization process (RL-VI flow, patent certificate no.364126).
This process improves desorption tower nitrogen purity and reduces CMS oxygen pre-adsorption in the desorption tower and increases CMS utilization ratio, i.e,increases carbon molecular sieve nitrogen production rate. RL-VI process not only improves nitrogen recycle rate and carbon molecular sieve utilization ratio, but also changes the history that no ppm class high purity nitrogen can be produced by PSA technology.
Get A Quote Now sales@rich-china.com
Nitrogen generator Technical Index
Nitrogen flow:5~12000 m3/h(20℃,101.325kPa)
Nitrogen purity: ≥97~99.9995%(Customizable)
Dew point: ≤-45℃(Customizable)
Nitrogen pressure:0.05~0.8Mpa (Customizable)

Nitrogen Generator with Cylinder Filling Supplier
The higher nitrogen purity,the more energy-saving

PSA Nitrogen Generator Process: clean compressed air flows inter tower A, when passing through the carbon molecular sieve, oxygen, carbon dioxide,water and other contaminants are adsorbed, allowing nitrogen flows out as product gas CMS in tower A becomes saturated as time goes by. Then tower A stops adsorption and compressed air enters tower B to adsorb oxygen and produce nitrogen. Meanwhile, CMS in tower A begins regeneration, Two towers make alternate adsorption and regeneration to separate nitrogen from air and continuously produce nitrogen.
World famous molecular sieve ensures maximum energy-saving
RICH has been cooperating with world famous molecular sieve manufacturers for more than ten years. RICH can provide the most energy-saving products according to customers working condition. For some latest foreign components,RICH has obtained the sole purchase right in China.

Advanced load adaptation technology further saves energy
Load adaptation is a new concept developed by RICH in its PSA system R&D experiences. It is the achievement of RICH technical engineers based on many years simulation experiments and repeating demonstrations. Under the circumstance of air consumption decrease, load adaptation realizes energy consumption reduction by prolonging adsorbing circulation period and realizes extra energy-saving in typical load range.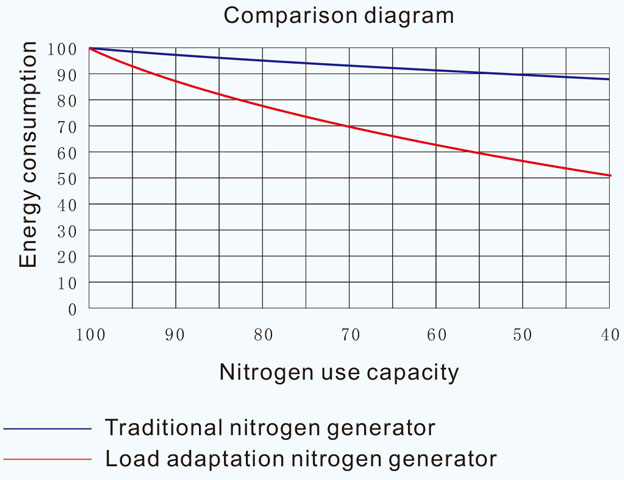 The most reliable air cleaning process ensures adsorbing efficiency and lifetime of molecular sieve
Carbon molecular sieve(CMS) is the core in PSA nitrogen generator. Oil poisoning is one of the main reasons for carbon molecular sieve invalidation. The adsorption of water reduces CMS's oxygen adsorption capacity. Compressed air generated by oil lubricant air compressor contains oil and water, which must be removed before it enters oxygen/nitrogen separation assembly. Air cleaning assembly consists of pipeline filter, refrigerated dryer, precise filter, super precise filter, active carbon oil eliminator, automatic drain valve and ball valve.